Couples That Exercise Together, Stay Together
Try the gift of health and fitness just in time for a healthier Valentine's Day. Celebrate by sharing a personal training package or lifting weights together at home. Fit couples that share active interests and healthy diet habits have a lot in common and may keep each other naturally motivated and challenged.
Let's face it: An attractive lean body is good for your libido and your energy level.
Couples That Sweat Together, Stay Together
Firm up, gain confidence and engage with your partner by performing popular activities together – both in and out of the gym. Try yoga and Body Pump class together, or tennis doubles and lifting weights at home.
Even if you live in a multi-family unit or a small apartment, be active together. Maybe book a couples' massage or a ski lesson – we'd love to hear about your Valentine's Day Couples Workouts.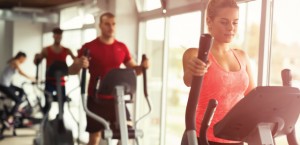 Exercise, Sex and Your Brain
When you moderately exercise, the release of endorphins – those feel-good hormones or feelings of pleasure that are created and released in your brain – help create the surefire recipe for a superior love life.
Exercise produces chemicals in the brain that evoke feelings of happiness, reduce stress, and also increase arousal. Several studies show that men and women who exercise together regularly do report better (and more frequent) sex with their partners.
Maybe take a dance class together or join a gym and share a personal trainer. Go easy, but go together as a couple who might move mountains – together.
One of the best things about exercising at the gym or using home exercise equipment side-by-side is that you really do not have to be performing the same activities to get the physical jolt of being together. You do not have to be have to be at the same fitness level to participate in effective couples workouts, according to studies.
We asked some of our favorite exercise experts for their ideas on how to workout as a couple for Valentine's Day, and received awesome suggestions on how to make each others' hearts race!
Create the ultimate home gym and meet for exercise dates
Be open-minded and keep your partner's needs (goals, comfort level) in mind
Have no fear, happy couples. Even exercising side-by-side or coming together for the last 15 minutes of stretching may potentially increase your attractiveness and commitment to each other.
Valentine's Day Workouts That Really Work
Firm up, gain confidence and engage with your partner by performing popular activities together, both in and out of the gym. From yoga and Body Pump classes to doubles tennis and snowshoe excursions, sweating together brings you closer. Research proves it.
Remember this Valentine's Day, working out as a team might include your whole family, office mates, parents and best friends. When winter hibernation mode kicks in, you'll need support from your workout buddies to get moving again.
Couples workouts don't have to just come once a year. Working out with your romantic partner can benefit your body weight, self-esteem and your relationship. The couple that plays together stays together.
Set up a new home gym together for Valentine's Day; there are many exercise options for working up a sweat together. Now, grab your honey and go for a hike.
Ask soOlis sports and marketing services to help you plan and develop your future content marketing initiatives.